a warm welcome by our management


Nino Bellengé & Robin Toorneman
Key takeaways



The importance of defining the right problem and validating it
Before you develop and launch any product or service at all, it is essential to understand what the problem is that you are actually trying to solve for the end users. If your product doesn't respond to their wishes and needs, the risk of failure is high. You want your product to be successful and prevent wasting time and money.
But even if you have a clear understanding of the problem you are solving for the end user, it's still essential to validate this and collect as much data as possible. The more questions you ask, and the more you research, iterate and test, the better. That is The Lean Startup Methodology.
"It ain't what you don't know that gets you into trouble.
It's what you know for sure that just ain't so."
How to do it?
One method to help you is to write down your assumptions and formulate a clear problem statement.

If you don't have one (yet), make sure to talk to your target audience to discover what problems they experience and what wishes and needs they have.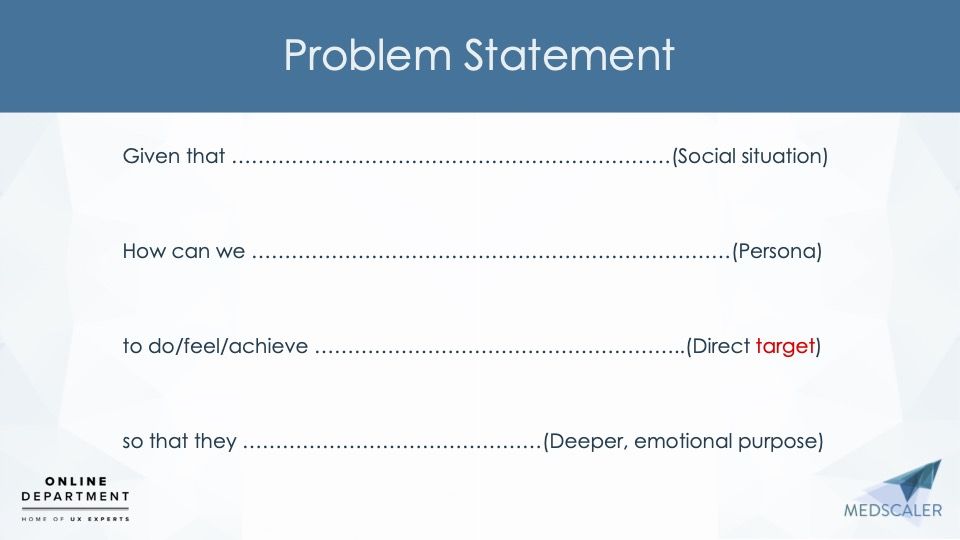 User research
When you have a clear problem statement you can validate this statement by gathering data by talking to the (right) end users and target audience. This is called
user research
:
User research focuses on understanding user expectations, behaviours, needs, and motivations through methodical, investigative approaches. The insights gathered are then used to ensure that all product design decisions benefit the user. You can use various user research methods to validate a problem statement or to find one.
For example:
Shadowing
Observing
Interviewing
Sending out a survey
With a solid validated problem statement you make sure you solve the right problem for the right user and in this way ensure a more successful product!
Assignment 1
Value Proposition
In order to bring your innovation from an idea to the market, one of the first steps is to create a Value Proposition. This step is important as it is the reason why customers buy/use your product over another. In other words, it solves a problem within the healthcare industry or satisfies a need within healthcare. Each Value Proposition consists of a specially selected combination of goods and/or services that are tailored to the needs of a particular customer segment. Some Value Propositions may be innovative and represent a new or disruptive offer. Others might be comparable to products already existing on the market, but with additional features and qualities.

Through a unique combination of components adapted to this customer's needs, your Value Proposition adds value for a certain customer segment. Values might be quantitative (e.g., price or speed of service) or qualitative (e.g. design, customer experience).
A good Value Proposition meets the following criteria:
It's specific

: What are the unique benefits that will benefit your target customer?

It's pain-focused

: How can your product solve the dilemma of the client/customer or enhance his/her life

?

It's exclusive:

How is it attractive as well as exclusive? How well does it stress our competitive advantage and differentiate us from rivals?
Create a Value Proposition for your innovation. Answer the following questions:
What value do you deliver to the customer/healthcare sector?

Which one of your customer's problems are you helping to solve?

Which job are you helping the customer get done?

Which customer needs will you be satisfying?

What bundles of products and services are you offering to which customer segment?
Introduction Business Model Canvas
This episode introduced you to the Business Model Canvas (BMC). This model helps you visualize what is important for your innovation. It enables startup teams to see how the building blocks are interrelated and how these relationships can be modified to increase efficiency and effectiveness. The BMC exists of 9 different blocks which can be divided in 3 main themes:
Feasibility: Can we deliver the product?
- blocks: Key Resources, Key Activities, Key Partnerships.
Desirability: Do customers want it?
- blocks: Value Proposition, Customer Segments, Channels and Customer Relations.
Viability: What is it worth?
- blocks: Revenue Stream, Cost Structure.

At the end of each episode we will dive deeper into one or two of the blocks of the BMC and explain to you how you can apply this to your innovation. To make it more valuable we will make use of assignments which will in the end, if you do the assignments carefully, result in a concept of a business plan.
What else will you learn?
Besides this first episode, the eLearning will cover the most important topics you must know to get your idea to the market, whether a medical device or software. Each episode will present information from different perspectives both theoretical and practical.
Episode 1: Problem, Solution, Product


Episode 2: Intellectual Property

Episode 3: Engineering and Product Design

Episode 4: Fundraising


Episode 5: Clinical Evidence


Episode 6: Standardization


Episode 7: Quality Assurance, Quality and Risk Management


Episode 8: Market Access (Compliance - Regulatory)


Episode 9: Business Case & Reimbursement Routes


Episode 10: Sales & Distribution

Who are we?
At MedScaler, we are specialized in market introductions. Together, we aim to bridge the gap between technological possibilities and the daily use of innovations in healthcare. Having done over 50 market introductions in at least 10 countries, we have gained relevant hands-on experience in complex healthcare projects.
Want to see what we do? Check our
website
.